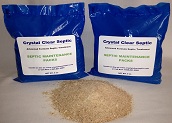 Replacing a failing septic system can be prohibitively expensive, especially in today's economy. If you're looking for a lower cost alternative, we've got some information about a product that you'll want to know about.
When an old septic system begins to have problems, it can spell big trouble for the homeowner.
Signs of a failing septic system may be as subtle as soggy, wet spots of grass in your yard. At the worst extreme, it may result in backed up sewage in your home.
If you have determined that your septic system is failing and you're looking for an alternative to installing a new one, there is a little-known product available that can save you BIG dollars, and that is Crystal Clear Septic Tank Treatment.
Maintenance of your septic tank and septic system is easier than you might think. Many homeowners are concerned that they'll have to get "up close and personal" with their waste, but nothing could be farther from the truth. With Crystal Clear Septic Treatment, bacteria and enzymes are flushed down the toilet and begins to breaks down your waste. This is a very simple process the homeowner just flushes the toilet handle. It's that simple. 
So, if your septic system is beginning to show signs of trouble, it might be time to learn more about septic maintenance. It requires far less time and expense than replacing your septic system, plus Crystal Clear Septic Treatment is a totally do-it-yourself maintenance solution for homeowners. Now may be a better time than ever to look into the best septic tank treatment available today, the septic system alternative of the future.